It all started back in 1937.
E. Clayton Gengras, one of the top Ford salesmen in the U.S., took a risk and opened his own Ford dealership. Gengras had learned some of his retail and customer service skills from selling bottled gas door to door after high school. "Clayt" was a driven man who cared greatly about his customers, employees and community. Clayt went on to become one of the largest Ford dealers in New England before diversifying his business into many different industries including banking, insurance, and transportation.
Clayt died in 1983 but there are still people who come in to see us and share stories of his impact on them. He set the standard for our business and instilled in all of us the importance of doing the right thing no matter what the circumstances.
Clayt's son, E. Clayton "Skip" Gengras Jr., purchased Clayton Motors in 1969. Prior to taking over the organization, Skip had several experiences that helped prepare him for the sales and service business of automobiles. He had been a service manager for the Connecticut Bus Company in Hartford and also spent several years working for the late Henry Miller in New Haven. Skip wanted to make sure that his customers felt comfortable in their dealings with Clayton Motors and made it very clear to all his employees that this was a top priority. After years of growth and success he turned that culture into his tag line; the "Comfortable Car Store" was born!

Skip's sons, Chip and Jonathan, shared their father's and grandfather's passion for the car business. They both spent their summers working in the service and parts departments at Clayton Motors before joining the business full time.

In 1994, E. Clayton "Chip" Gengras III attended the National Automobile Dealer Academy to learn all aspects of the business. He spent his first nine years in the business overseeing the service and parts departments. Chip is currently President of Gengras Motor Cars.
Gengras Volvo of Meriden opened in December of 1999, before moving to North Haven in 2018.
In 2002 Jonathan Gengras joined the organization as CFO after 6 years with Ernst &Young and earning a MBA at Babson's Business School.
In 2004 Gengras bought the neighboring Newman dealerships, thereby acquiring three additional brands: Jeep, Chrysler and Chevrolet, along with a full service Collision Center.

BMW of West Springfield was added in 2008.  Eight years later, Upper Valley Honda (Lebanon, NH) joined our group of car stores. More recently, Gengras Ford and Gengras VW (Plainville, CT) became Gengras dealerships.  Gengras Subaru in Torrington, CT was added to our group in 2021.  As Gengras has grown we have never strayed from our vision: to be the most respected automobile dealerships in the markets we serve by building strong connections with our customers, employees, and community.
Why should you choose Gengras?
We offer the largest selection of products and services at the best price, while giving every customer a friendly, informative and efficient experience.
How do we do it?
By staying true to our core values: growth and learning, personal responsibility, honesty and transparency.
We will be there when you need us most.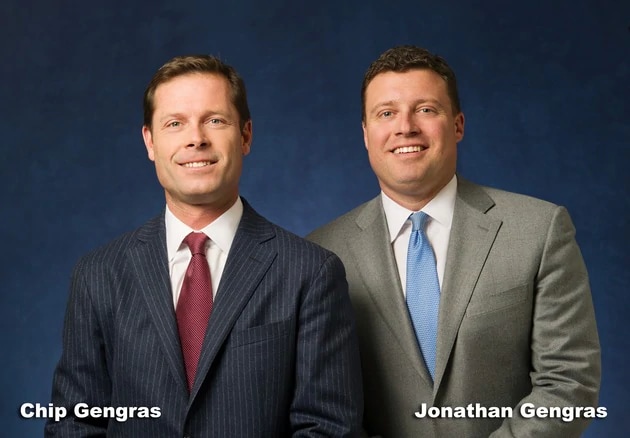 Chip and Jonathan Gengras 
ecg3@gengras.net